Type of Toughness
3 kinds, TOUGH・STANDARD・FRIABLE of toughness grains are provided by managing raw materials of micron size products.

Type of Shape
3 kinds, Blocky・Irregular・Un-crushed grains are provided.

PRODUCT LINE
PRODUCT NAME
CHARACTERISTICS
TMD
STANDARD
General and versatile use abrasive grain for wrapping, polishing, and slicing of cemented carbide, sapphire, ceramics, and etc.
We classified the primary, secondary, and tertiary in our TW / TMD grains. It is suitable for applications that require precision finish surface.
Specifications for précised sort will meet the needs of the individual.
TMD-S
FIRST SORT
PRODUCT
TMD-SA
PRECISELY SORT
PRODUCT
TMD-SS
SUPER PRECISELY
SORT PRODUCT
TMD-L
FRIABLE PRODUCT
Black color grains crushed from pure resin bond type diamond and has well friability and sharpness and suitable for high concentrated tool.
TMD-LS
FIRST SORT
PRODUCT
TMD-LA
PRECISELY SORT
PRODUCT
TMD-LSS
SUPER PRECISELY
SORT PRODUCT
TMD-M
TOUGH PRODUCT
Yellow color, very clean less impurity grains crushed from pure metal bond type diamond and has very tough crystallization.
TMD-MS
FIRST SORT
PRODUCT
TMD-MA
PRECISELY SORT
PRODUCT
TMD-MSS
SUPER PRECISELY
SORT PRODUCT
TMD-B
COST EFFICIENCY
PRODUCT
A product of the field not require an emphasis on the economy and strict classification.
TMD-MC
QUASI MONOCRYSTAL
PRODUCT
Un-crushed and mainly cube-octahedral grains is extremely tough and has well impact resistance and wear resistance.
TMD-MC-TI
TITANIUM COAT
PRODUCT
TMD-PC
POLYCRYSTAL
PRODUCT
Polycrystaline diamond through coagulation binding by synthesized fine grains. Well performance for polishing brittle material such as sapphire and SiC.
TMD-PCS
COARSE GRAIN
SORT PRODUCT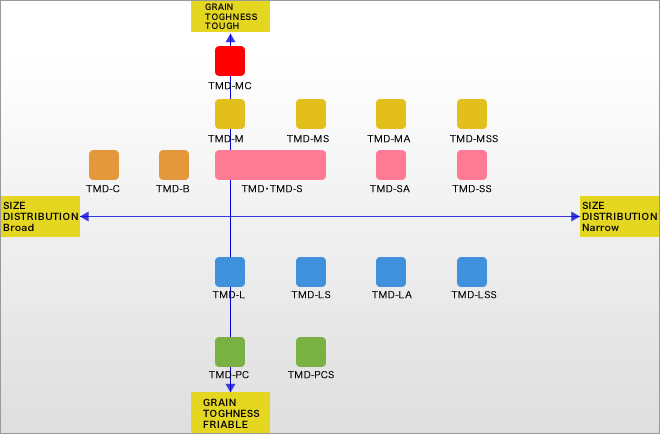 STANDARD SIZE LIST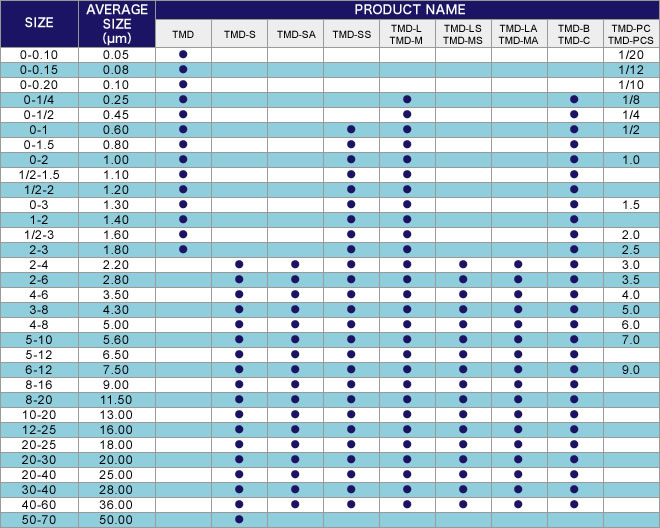 Please contact us for Ni and Ti coat products.
PRECISION SORT PRODUCT / SUPER PRECISION SORT PRODUCT
Our own sorting process removes both / either coarse size grains which tend to damage processed surface and fine size grains which tend to cluster from the original micron size diamond grain distribution.
| | PRECISION SORT PRODUCT | SUPER PRECISION SORT PRODUCT |
| --- | --- | --- |
| STANDARD PRODUCT | TMD-SA | TMD-SS |
| FRIABLE PRODUCT | TMD-LA | TMD-LSS |
| TOUGH PRODUCT | TMD-MA | TMD-MSS |
TRUST SORTING
Over-cut and under-cut 2 steps classification process or either process are available at the request of customers.